San Francisco, CA – July. 26, 2022, FranklinWH proudly announces that the Franklin Home Power (FHP) system is qualified for the Hawaii Battery Bonus Program. Residents in Oahu and Maui who use FranklinWH home batteries with a solar rooftop can participate in this bonus program to gain financial incentives for home power generation and storage.
What is this battery bonus program?
Hawaii Electric Company (HECO) designed this program for residents living in Oahu and Maui. The Battery Bonus program's goal is to encourage people to use batteries during the peak load time so that HECO can use fewer fossil fuels and meet the 2045 goal for 100% renewable energy in Hawaii. Residents participating in the program will sign a contract with HECO to gain financial incentives and export the electricity required by the contract terms.
The total program term is 10 years. Customers who participate must use and/or export electricity stored in the battery at the committed amount on a firm two-hour schedule specified by HECO, between 6:00 p.m. - 8:30 p.m. daily including weekends and holidays.
The program is intended to encourage more people to use home batteries to power the home, store solar energy, and use clean energy. This will save costs for both parties and release the electricity burden on Hawaiian Electric during peak hours, which is a win-win strategy.
How is my power managed to meet program requirements?
The FHP is a whole-home power management system. While the aPower is the advanced, industry-leading, battery that provides the storage that can then be used to meet the bonus plan requirements, the aGate is the FHP component that manages your home power and mediates with HECO to meet program requirements.
The aGate is a controller that manages home power. It integrates grid, solar, battery, and even generators into a home power plan for good times and bad. It is ready to handle disruptions such as brownouts and blackouts, but it also has the intelligence to manage household load shifting. That load shifting is provided through the aPower storing power from other sources and then providing it back during peak times.
It is easy, therefore, for the FHP system to manage household compliance with the HECO bonus program, ensuring that the committed capacity from the battery and on-site generation is met during the required hours.
How much is the bonus?
1. One-time check for committed capacity
Customers accepted in the program for the first 40 MW of committed capacity on Oahu and 15 MW on Maui will receive $850 per kilowatt (kW).
2. Monthly bill credit for committed capacity
$5/kW per month for 10 years (effective on June 1, 2022)
3. Bill credits for exported energy
NEM customers are locked in for the full program length, and non-NEM customers are equal to the retail rate, updated quarterly, for the first three years of participation, and are subject to update prior to the end of the 3rd year.
The program has a capacity cap of 15 MW for Maui and 40 MW for Oahu. It will be closed if the total power participated exceeds the cap. Incentive differs based on the participating time. The earlier you join, the more you will get.
Take the FranklinWH FHP as an example. Each aPower battery has a committed power of 5 kW. Below are the incentives you will get in addition to the bill credits for exported energy.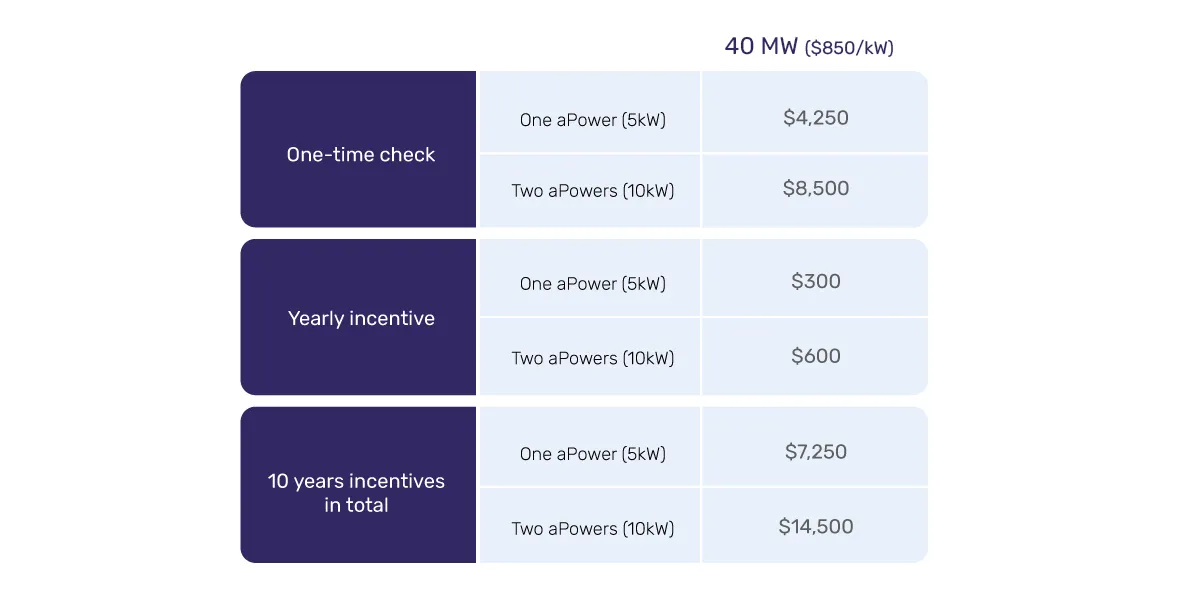 Who can participate in this program?
The program is available to new and existing residential and commercial customers with rooftop solar and a battery storage system charged from on-site solar generation under Hawaiian Electric's NEM, Customer Self-Supply (CSS), Customer Grid-Supply (CGS), Customer Grid-Supply Plus (CGS+), Smart Export (SE) or Standard Interconnection Agreement (SIA) programs.
Battery projects with equipment installed before Jul 1, 2021, on Oahu, and Jun 1, 2022, on Maui (indicated by the date of the "Permission to Operate" email date stamp) are not eligible for the program. The application deadline on Oahu is Aug 14, 2023, and Jun 30, 2024, on Maui.
Contact
If you have any questions related to this topic or want to have a FranklinWH home battery system installed in your home, please contact us at info@franklinwh.com.
About FranklinWH
Designed with the end-user in mind, FranklinWH's forward-thinking storage system ensures home comfort while anticipating homeowners' future energy savings. Founded in 2019, the company employs a team of leading storage and power electronics experts. With its culture of innovation, FranklinWH already has more than 30 patents pending. As one of the only manufacturers of residential battery technology to design and produce nearly all its components in-house, FranklinWH delivers higher reliability and performance than competing systems assembled from multiple sources. Learn more about how homeowners can achieve energy freedom at www.franklinwh.com.